Law Firm Bauer & Coll.
Reference Law Firm Bauer & Coll.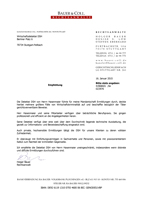 "Under the direction of Mr. Wolfgang Hasenmaier, the DSH often handles discrete investigations of a sensitive nature for our clients. DSH has an impressive history of achieving results. The cases are handled in a resourceful, efficient, and discrete manner. Business investigations also include uncovering high profile, white collar criminal cases. Evidence procured by DSH is either admissible in court or can be used as the basis for extrajudicial agreement. Strongly incriminating evidence acquired by DSH means that a high percent of these cases are settled out of court. The DSH has canny investigators with the verbal skills crucial to successful investigations. The director of DSH, Mr. Hasenmaier, not only establishes excellent rapport with his clients, but is committed to the successful resolution of any case entrusted to his agency. This includes national and international connections with experts in the respective field if needed. The DSH has helped our clients in many cases. I therefore recommend the detective agency DSH to my clients for a professional resolution of their cases. Respectfully yours." Lawyer Holger Bauer
The recommendation letter of law firm Bauer & Coll. to print here as a PDF document.
Upon request we can provide further references from:
other law firms
chief executive officers
managers and entrepreneurs
the Chairman of the Board of a globally operating bank.
Read more examples of recommendation letters: